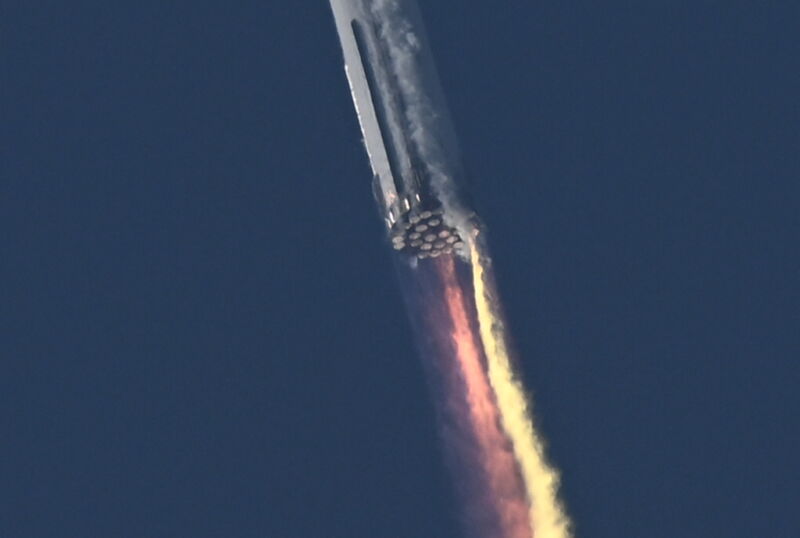 The Federal Aviation Administration said Friday it has closed an investigation into the problems SpaceX encountered on its first full-scale Starship test launch in April, but federal regulators won't yet give a green light for the next Starship flight.
"The closure of the mishap investigation does not signal an immediate resumption of Starship launches at Boca Chica," the FAA said in a statement, referring to the location of SpaceX's Starship launch facility at Boca Chica Beach in South Texas.
The nearly 400-foot-tall Starship rocket, the largest ever built, is standing on its launch pad in Texas for the upcoming test flight, which could happen before the end of this month, pending FAA approval.
If all goes according to plan, the rocket's Super Heavy booster, powered by 33 methane-fueled Raptor engines, will burn for nearly three minutes, then the Starship upper stage will light its own Raptor engines to accelerate to near-orbital velocity, fast enough to send the vehicle on a flight three-quarters of the way around the world. The booster will attempt to descend to a controlled splashdown in the Gulf of Mexico, testing maneuvers for future flights to recover and reuse the rocket.
But the first test flight of Starship didn't get that far. SpaceX recently submitted to the FAA the results of its investigation into the Starship test launch, which ended about four minutes after liftoff on April 20.
Multiple Raptor engines on the rocket's Super Heavy booster failed, and the vehicle lost its steering, causing it to twist out of control in the upper atmosphere. An autonomous self-destruct system issued a command to blow up the rocket, but it took longer than expected for Starship to break apart. The rocket finally disintegrated in a ball of flame.
The FAA's statement Friday confirms that federal regulators have completed their review of SpaceX's mishap investigation report, which cites multiple root causes that led to the April 20 test flight ending a few minutes after liftoff. SpaceX deemed the test flight a success because it allowed engineers to gather data on the rocket's performance. The mishap investigation report itself contains SpaceX proprietary data and information governed by US export control laws and is not available for public release, according to the FAA.
"The FAA has been provided with sufficient information and accepts the root causes and corrective actions described in the mishap report," wrote Marcus Ward, manager of the FAA's safety assurance division, in a letter to SpaceX. "Consequently, the FAA considers the mishap investigation that SpaceX was required to complete to be concluded."
Now SpaceX must convince the FAA it has checked off a list of corrective actions to prevent the same failures from occurring on the next Starship test flight. SpaceX said in a statement Friday that lessons learned from the April 20 launch are "directly contributing to several upgrades being made to both the vehicle and ground infrastructure to improve the probability of success on future Starship flights."