One of the breakout stars from the night Manchester City clinched the Champions League in Istanbul earlier this summer was four-year-old Ronnie Foden.
From signing with Rico Lewis in the team bus to dancing with the squad in the dressing room while sat on his father Phil's shoulders, Ronnie was a protagonist in City's celebrations in the aftermath of their Champions League triumph. Overnight, he became an Internet sensation and has since been dubbed 'El Way' or 'The Dude' in Spanish by City fans.
"His personality has made him who he is. I think he went quite viral after [we] won the Champions League. He just reminds me of myself when I was a kid and he's very funny," Phil Foden said in an exclusive interview with Sky Sports News.
"I couldn't believe it. Every comment on my social media page was asking to see him. So I thought I'd give the fans what they wanted and create an account for him and it just blew up."
Within 14 hours of Foden setting up Ronnie's account, he hit the one million followers mark and currently has 3.9 million followers.
Before Ronnie took centre stage in Istanbul, the night had belonged to the senior Foden. The 23-year-old had seamlessly replaced Kevin De Bruyne early in the first half after the Belgian had to come off because of a hamstring injury. His drive and dynamism played a key role in helping City overcome a disciplined Inter Milan side and lift the Champions League for the first time in their history.
Foden has had to reprise this role in the middle of the park at the start of this season owing to De Bruyne's injury lay-off. He was primarily deployed on the left wing last season by Pep Guardiola but as his player-of-the-match performance against Newcastle United showed, he's comfortable in a more central role.
'New position is my favourite'
"I think the one I played in against Newcastle, that's my favourite one. I felt alive in that game, I felt myself more and I could get on the ball and do things. That's always been me as a player and hopefully I can keep playing there and show people what I can do," he said.
"It [the position] is one I can handle. There's a lot of responsibility, it's not just about going forward. You have to know what you're doing defensively and know who is around you. But, it's one that I can definitely do and I'm looking forward, if I can play there more often, what I can do in there."
Despite Foden's showing against Newcastle, Bernardo Silva was picked ahead of him for the subsequent game against Sheffield United last weekend. The arrivals of Matteo Kovacic, Mattheus Nunes and Jeremy Doku this summer will only further increase the level of rotation in the starting XI but it is something Foden has grown accustomed to.
Highlights from the match between Sheffield United and Manchester City in the Premier League

"You're playing at one of the best teams in the world. You're not guaranteed to play every game, even if you've done well in the last game. We've seen that with the manager we've got, he likes to rotate and use the full squad. Every game he's got a different scenario and he picks different players for different games and you've got to respect his decision," he said.
"I'm used to it but hopefully I can keep playing a lot of football now because Kev [De Bruyne] is injured and I'm needed for the team. So I hope I can fulfil that position and try to do good things there."
'Now we want to win quadruple'
The attacking riches at City have seen an average of 94.6 goals across the last five Premier League seasons. You have to go all the way back to 2016/17 for the last time City weren't the top-scoring team in a league season. Yet, Foden puts down the team's success to its defence.
"A lot of strikers get the credit in this team but we've got the best defenders in the world. The defenders are the reason we've won so many things. We've won things because of how hard we work off the ball, chasing back for each other, filling in," he said.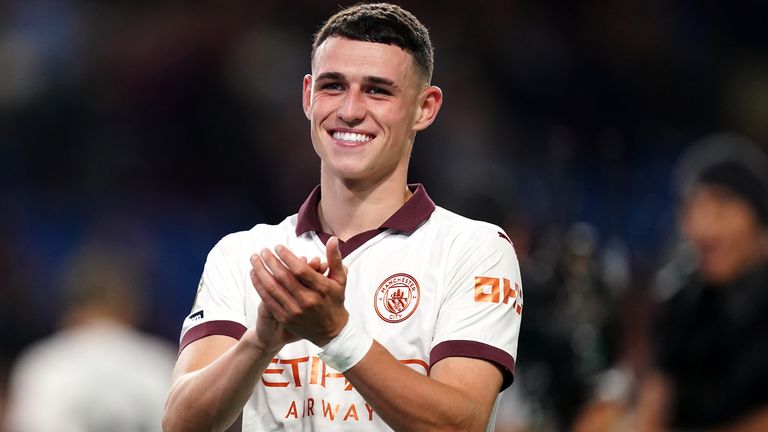 City have begun this season in the same imperious manner in which they ended the previous one. They are the only team in the league to have won their opening three games and are favourites to retain their crown for the fourth successive year. The only question that looms over City is if after the heights they scaled last year, they'll be able to motivate themselves to go again.
"I remember actually speaking to Jack [Grealish] about this. After the Champions League was done, we both looked at each other and thought, 'how are we going to get that high again?' I was almost a bit sad thinking about it," he said.
"So we had a little discussion and the only way is to just do it again or do the quadruple. That's the aim now. We have to try and do it again. I know it's nearly impossible because it's such a hard thing to do but the lads are craving that now and want to do it again."