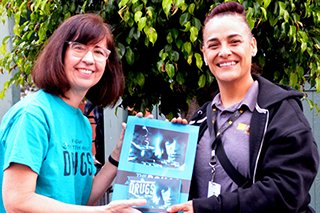 Bridge Publications volunteers brought the truth about drugs to a resource fair for at-risk youth and their families
Volunteers from Bridge Publications, Inc., publishers of the nonfiction works of Scientology Founder L. Ron Hubbard, joined the nonprofit Soledad Enrichment Action at a Halloween resource fair to reach at-risk youth and their families. They used the Truth About Drugs initiative of Foundation for a Drug-Free World, a nonprofit, international drug-education and prevention program supported by the Church of Scientology and Scientologists. 
With drug overdose on the rise among youth, educators and parents are looking for effective answers. Soledad Enrichment Action (SEA) is a leading provider of services to high-risk, gang-affected individuals and families. In September, Bridge volunteers organized a workshop for SEA interventionists on how to reach youth on this vital subject. The workshop empowered them to help youth make the informed decision to live drug-free.
So when planning their resource fair, SEA invited the volunteers to set up a booth to reach youth and their families with the Foundation's Truth About Drugs booklets. 
"Drug prevention is vital to ensure that children and youth grow healthy and safe," said one of the SEA staff, thanking the Bridge volunteers for their participation in the event. Another asked if they could arrange drug prevention seminars for the youth they serve.
Since 1972, Soledad Enrichment Action has been helping high-risk youth avoid
the pitfalls of gangs, drugs and violence by providing guidance and support
services. It was founded by a group of mothers whose families were affected by violence and who met regularly in the basement of Our Lady of Soledad Church, from which they took their name.
In his research into the mind, spirit and life, Scientology Founder L. Ron Hubbard found that "the single most destructive element present in our current culture is drugs." This inspired the Church and Scientologists to initiate the Truth About Drugs, a secular program through which they have worked for decades to empower millions with the truth about drugs.   
To read or download the Truth About Drugs booklets, watch brief videos, or take free online drug education courses, visit the website of Foundation for a Drug-Free World at www.drugfreeworld.org.
To learn how drug-prevention advocates the world over are saving lives using the Truth About Drugs materials, watch episodes of Voices for Humanity. And to learn how Bridge Publications has revolutionized the digital publishing industry, watch an episode of Inside Scientology. Both air on the Scientology Network, available on DIRECTV Channel 320, DIRECTV STREAM, AT&T U-verse and stream at Scientology.tv, on mobile apps and via the Roku, Amazon Fire and Apple TV platforms. 
To participate in future Bridge Publications community outreach activities, contact Lucia Winther, Bridge Publications Public Relations Director, at (323) 888-6200 or lwinther@bridgepub.com.