Jurgen Klopp said his Liverpool side could not play worse in the opening half against Wolves but praised the second-half fightback which earned a 3-1 win.
Wolves came flying out of the blocks and went ahead through Hee-Chan Hwang seven minutes in and should have doubled their advantage by the break through Matheus Cunha.
Alexis Mac Allister – who had played for Argentina at altitude against Bolivia on Tuesday – particularly struggled and was withdrawn at half-time for Luis Diaz.
With a formation change for the second half, Liverpool were far more dynamic and levelled from Cody Gakpo's close-range finish before Andy Robertson and a Hugo Bueno own goal late on completed the turn around.
Klopp said fatigue from the international window played its part in Liverpool's poor opening 45 but said his side deserved the three points in the end.
"We have to play better than we did in the first half. We did in the second which was the best moment to react," Klopp told the BBC. "In the first half we had some problems physically, we weren't sharp, we weren't right.
"We tried to find out who's ready [after the international break] and it was not a perfect choice. The best news was it was over and I thought we cannot play worse. That's why we changed pretty much everything in the second half, tactically and physically.
"Second half we controlled it completely and it was a really good game then. We deserved to win in the end that's clear. We scored the equaliser, kept controlling, kept trying and won the game which was massive for us."
On Mac Allister's first-half struggles, which included the midfielder giving the ball away for several Wolves counter-attacks and picking up a yellow card, Klopp said: "Alexis was done. Yellow card and he was exhausted.
"We know now how good Alexis is. We saw during the week when he had the oxygen mask, I thought a couple of times he should have left it there a bit longer. He had good moments but he had some other moments as well.
"He was not really disappointed when we took him off, it was rather a relief."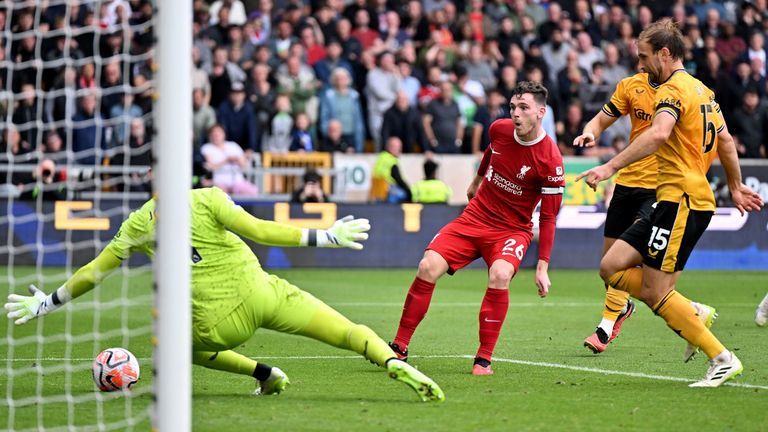 Of Liverpool's four wins this season three have come by way of a comeback and Klopp says while those situations are not ideal the turn arounds are testament to the character of his team in transition.
"Usually you learn these things [such as character] a bit later in the season. We learned early," he said.
"We are not stable yet. With all the changes we've made and for this game today how can we be stable?
"Turning games around is helpful whenever it happens in a season. We should not come that often in the situation but for today it's alright. You have to play as good as you can, it looked in the first half we couldn't play better.
"Sometimes the first half [after an international break] they need to shake the legs off. We have to work on that. The reaction was top class."
O'Neil: As soon as you create chaos against Liverpool they're very good in it
Meanwhile, Wolves boss Gary O'Neil was left to rue an error from Jose Sa for Liverpool's second goal. The goalkeeper tried to launch a counter-attack with a kick out of his hands but only sent the ball to Robertson who combined with Mohamed Salah before scoring a decisive goal.
"If you look at the two sides and the gap in quality it takes a big effort to close that and I thought we did for a very long time," he said.
"You know you're not going to be the best side against Liverpool for the whole game and when we were on top we could have taken one or two of our real good situations. Then you start to lose some energy, they took control, you know you need to dig in and hang on and we were at 1-1.
"Then we make a strange decision and create a bit of chaos and concede a second goal. As soon as you create chaos against Liverpool they're very good in it. From that point they create a lot of chances. Up until 80 minutes to have pushed Liverpool that close was a big effort from everybody."
What's next?
Wolves' next game is a trip to Luton on Saturday – kick-off 3pm. Gary O'Neil's side then travel to Ipswich in the Carabao Cup on September 26 – kick-off 7.45pm.
Liverpool's next outing is away to Linz ASK on Thursday as they begin their Europa League campaign – kick-off 5.45pm.
Jurgen Klopp's side then return to Premier League action when they host West Ham on September 24 – kick-off 2pm.