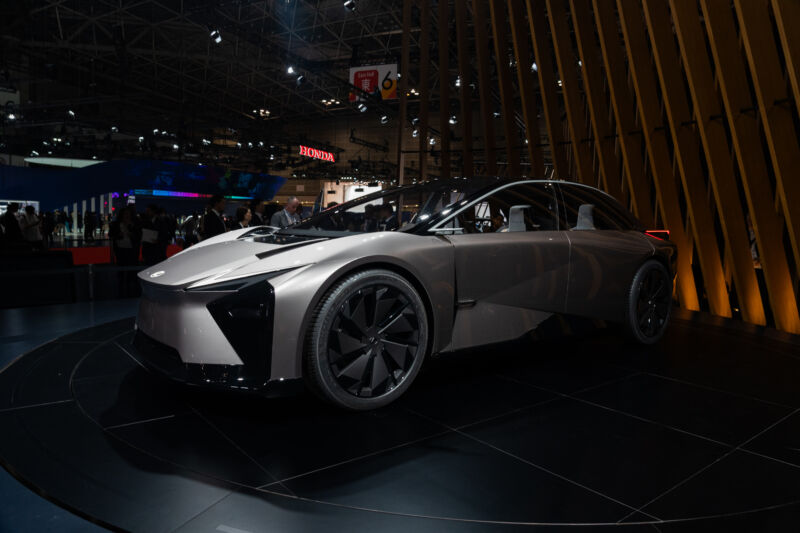 It has been a few years since Lexus pledged to go fully electric in the North American market by 2030, globally by 2035. That's an aggressive timeline for any manufacturer, particularly for one tied so closely with Toyota, a brand that has been slow on the battery-electric uptake.
Today, at the Japan Mobility Show in Tokyo, Lexus finally gave us a comprehensive look at our likely all-electric future. It debuted not one but two new electric vehicles, both based on the same next-generation platform and promising remarkable efficiency and some stellar aerodynamics.
The LF-ZC and new levels of efficiency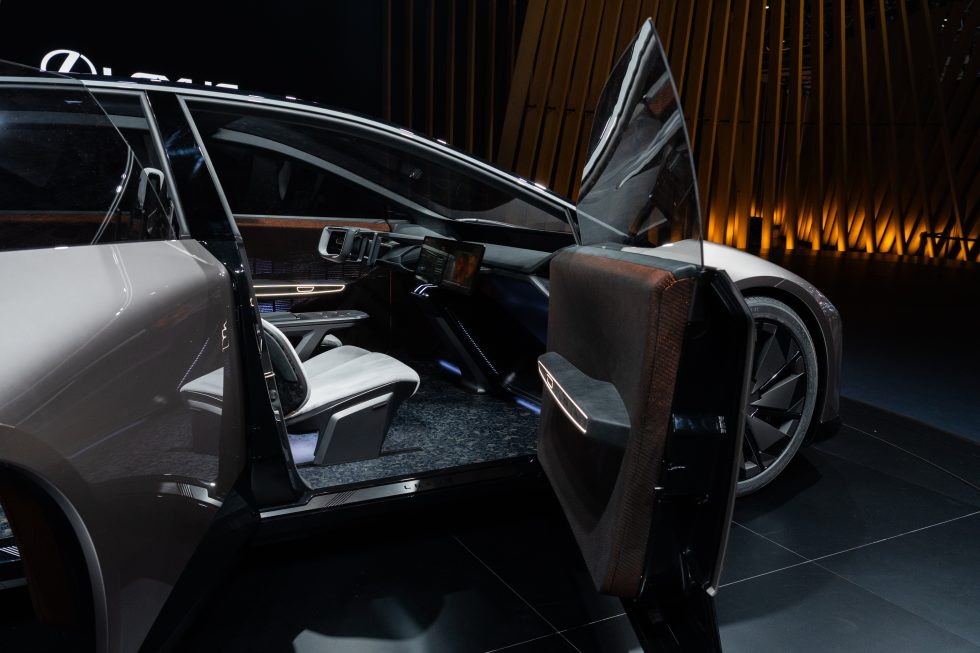 The first car is the LF-ZC, a name that doesn't exactly roll off the tongue. It's an acronym, standing for Lexus Future Zero-emission Catalyst, but forget the awkward nomenclature, because the thing looks fantastic. Long and lean and angular, it has a distinctly Lexus feel despite its unique look.
Those sharp, angry headlights are reminiscent of the current LC500 and RZ, fronting a nose that still has that familiar spindle shape about it—just minus the grille. That nose is pert and low, leading back to angular fender flares and a pronounced swell at the rear.
That is a very intentional profile, a teardrop shape selected to give what Lexus says will be a remarkable drag coefficient of less than 0.20. That would put it on par with the Lucid Air's decidedly less memorable shape.
That level of aero slipperiness, plus a new generation of prismatic cell in the battery pack, will help the LF-ZC offer what Lexus promises is twice the range of current EVs. Which current EVs? Lexus said the goal is 1,000 km on a charge, or about 620 miles, from a battery pack not substantially larger than the 80 to 100 kWh packs in many modern EVs.
An interactive interior and a new OS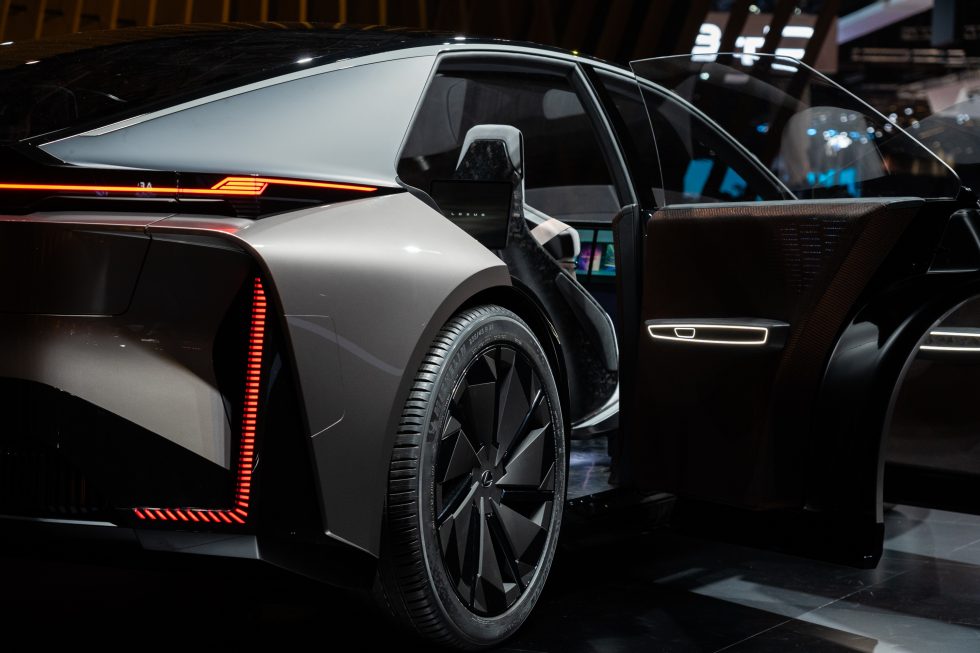 The LF-ZC's shape also creates room for an interesting interior space, with Lexus highlighting the flat floor offered by the EV layout. Front seats are positioned far forward and low, the dashboard sweeping down and away from the driver, making room for a gauge cluster situated far out front beneath the windshield. Heads-up projection on the glass will convey simple gauge information to either side.
Another, larger display spans between the center and the passenger, which Lexus says will offer different levels of interactivity based on the state of the car. This presumably means streaming movies or playing games while charging or, perhaps, when driving in some sort of autonomous mode.
That's one feature Lexus didn't say much about, except that the active safety systems of the LF-LC, and virtually every other aspect of the car's behavior, can be dynamically and constantly updated thanks to a new piece of software called Arene OS.
Arene is designed to allow for full and constant over-the-air updates that will touch virtually every system within the car, enabling its features and functions to grow, as is increasingly de rigueur in the automotive space.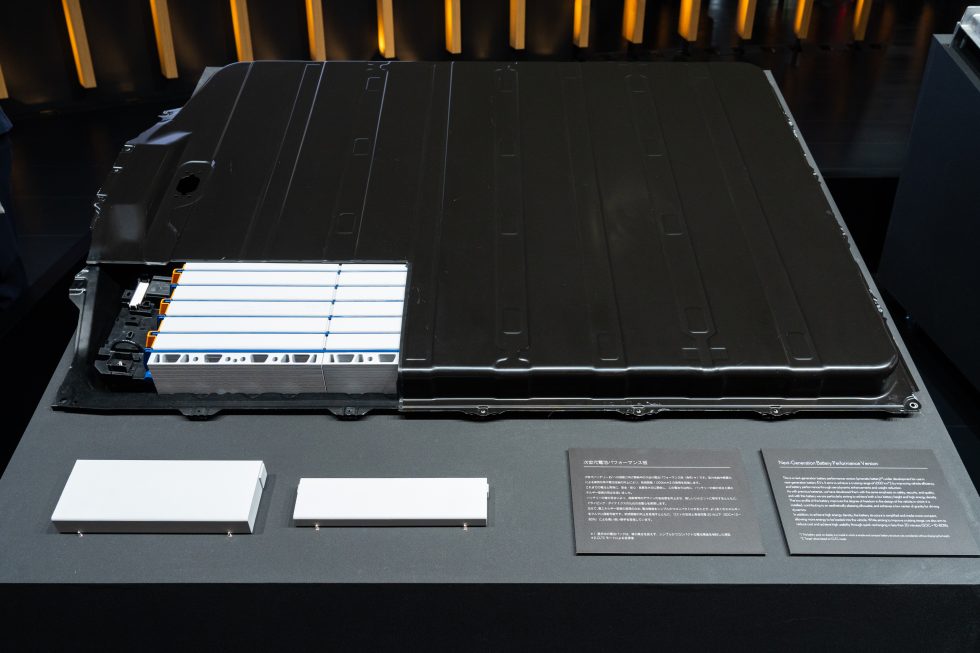 According to Lexus President Takashi Watanabe, this will help the car grow and stay current, possibly extending into some next-generation aspect of driver assistance. However, that wasn't mentioned as a feature for launch. Arene OS, Watanabe says, will become "the fundamental platform for data management," enabling the car to not only pull in V2X information from other sources but even to allow the LF-ZC to be a good neighbor and send power back to the grid.
Arene OS will also include some aspect of artificial intelligence, a voice-activated assistant called Butler. The idea here is an agent with enough intelligence to help you on the day-to-day while you're driving, whether it's helping you optimize drive settings or media recommendations. Butler is said to get to know you as you drive, which sounds only a little disconcerting.
Butler and the rest of the car's systems will be controlled through yet more displays, two smaller ones inset in the dash on either side of the steering wheel. The left panel is used for everything from selecting Drive or Reverse to configuring ADAS settings. The right one, which sits next to the larger infotainment panel, is there for things like HVAC and media control.