It was a privilege to be at Old Trafford as Manchester United paid tribute to Sir Bobby Charlton. The poignant occasion was handled beautifully with United's past, present and future represented when laying a wreath inside the centre circle before kick-off.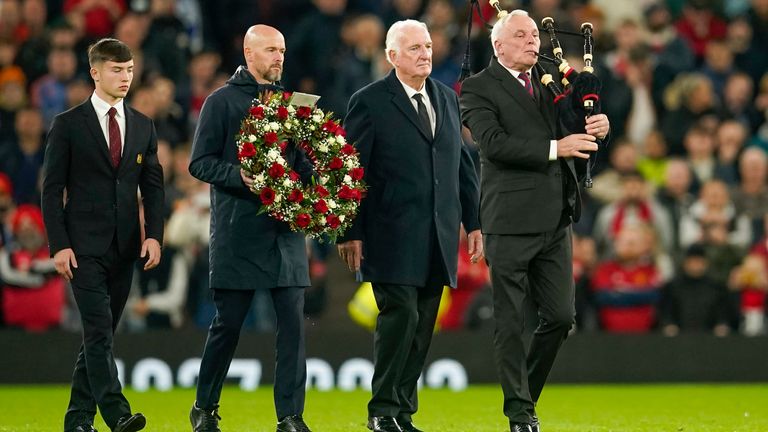 Charlton's legacy is myriad but as a Busby Babe and the driving force behind the club's first European Cup win, he helped shape how United sees itself. The 87-year sequence in which an academy player has been named in the squad has become part of the mystique.
Tony Whelan, the long-time academy coach, calls it the scarlet thread that runs through the club's history. Another United trope is drama and their win over FC Copenhagen served up plenty after a poor first half. Two much-maligned figures enjoyed big moments.
Tim Sherwood has given Harry Maguire a lot of credit for his comeback at Man Utd

It was a special evening, one that was rightly celebrated with gusto upon the final whistle. But there was the occasion and there is the situation. It was easy to be excited by Harry Maguire's goal and Andre Onana's penalty save. Not so easy to be excited by this team.
Erik ten Hag has scrambled his way to three consecutive victories now and can point to the spirit required to do so. But this continues to look like a side searching for something that is missing. The style of play is unclear. The uncertainty in their game is alarming at times.
This flimsiest of upturns in fortunes, for Maguire and the rest, will be put to the test against Manchester City on Sunday. That will be another chance for Manchester to pay its respects to England's finest. On Tuesday's evidence, there will be some trepidation about what follows it.

Sunday 29th October 3:00pm


Kick off 3:30pm

O'Neil offers insight into elite coaching
Gary O'Neil reveals how training work helped Wolves find a way through Bournemouth

Gary O'Neil's illuminating appearance on Monday Night Football provided a rare insight into the mind of a Premier League manager. At the very least, over four-and-a-half hours of television, he made a mockery of that dismally overused phrase 'tactically naïve'.
It was particularly fascinating to see how the prescribed movements in midfield could be used to engineer a way through the opposition press. It was a window into the world of elite coaching and the detail that goes into just creating the chance to create chances.
Amid the outpouring of admiration for O'Neil from the wider public – those who knew what he does but not how he does it – there was some scepticism about why he would allow such access. No doubt criticism will follow if Wolves lose to Newcastle on Saturday.

Saturday 28th October 5:00pm


Kick off 5:30pm

But that would be a major misunderstanding of what we were all privy to on Monday evening. As with Marcelo Bielsa, when he invited the media to see the dossiers that he prepared on opponents at Leeds, O'Neil was hardly giving the game away to his rivals.
None of this will be news to Eddie Howe. The people having their eyes opened here were the rest of us. Even if O'Neil's team are beaten, there will have been a plan. Supporters now have a better understanding just how detailed that plan is likely to have been.
Gary O'Neil breaks down how Wolves beat treble winners Manchester City

Iraola's pressing issue at Bournemouth
This public awakening regarding O'Neil's tactical knowledge could hardly have come at a worse time for his successor at Bournemouth. Not content with beating his old club, here it was explained in excruciating detail. But it is a side-show for Andoni Iraola.
The bigger concern for the Basque, a coach who deserves respect for the fine work that he did at Rayo Vallecano, is an injury-hit and imbalanced squad whose belief in his methods has been dented by a lopsided fixture schedule that has left confidence fragile.
FREE TO WATCH: Highlights from Bournemouth's Premier League clash with Wolves

The sale of Jefferson Lerma left a gaping hole in midfield. Tyler Adams' injury has prevented him from filling it. Alex Scott is only now returning to fitness. Lewis Cook is suspended for three games. Bournemouth have a surfeit of winger but are short in midfield.
Questions should be asked of the club given that it is not obvious Iraola has the personnel to play his way. Dominic Solanke seems suited to his pressing game. Kieffer Moore not so much. He needs buy-in but will fear time is against him if they fail to beat Burnley.
The pressing that captured the imagination at Rayo requires total commitment but perhaps even Iraola will be questioning whether he can make it work now. Stick or twist? O'Neil would urge him to adapt. But that is not what Bournemouth or Iraola signed up for.
How Emery has transformed Aston Villa
The Football Show panel discuss Unai Emery's success so far at Aston Villa

It was a joy to see Unai Emery's Aston Villa up close again on Sunday as they beat West Ham 4-1 to move up to fifth. The view from the press box is low at Villa Park but it did not require the tactical camera to see how Emery's team pulled their opponent apart.
What is so impressive about Villa right now is that they have different ways in which they can win. When West Ham sat off, Nicolo Zaniolo found space in the pocket. When David Moyes' side began to chase it late on, Ollie Watkins ran in behind and punished them.
FREE TO WATCH: Highlights from Aston Villa's win against West Ham in the Premier League

As is customary when a team is thriving – and with 11 home wins in a row in the Premier League, Villa are certainly doing that – every aspect is praised. But while the recruitment has been impressive, eight of the 11 starters against West Ham predated Emery's arrival.
One year into the job, had his three recruits been replaced in the starting line-up by Tyrone Mings, Jacob Ramsey and Leon Bailey – who came on to score the fourth – there is every reason to believe that the outcome would have been similar. His is a coaching triumph.