Sky Sports' Paul Merson gives his thoughts on Manchester United's wretched away form, Chelsea's latest setback against Nottingham Forest, Declan Rice outshining Moises Caicedo – and Gareth Southgate's eyebrow-raising England selections.
Man Utd have to be braver – they're a million miles off a title challenge
Manchester United go away to draw games. They try not to lose a match before they try to win it.
I don't understand. If teams are scoring goals then you've got to have a go.
FREE TO WATCH: Highlights from Arsenal's win against Manchester United in the Premier League

I think the manager's got to be braver. He's got the players to be braver. It's too negative – counter-attacking football. I do worry for Man Utd.
The Sir Alex Ferguson days are long gone. They're as far away from winning the league as you'll ever see. I know everyone's a long way off Manchester City but they're a million miles off.
You forget they're one of the biggest teams in the world. Man Utd can't even stump up £7m for Marc Cucurella. They're taking a player [Sergio Reguilon] that can't even play for Tottenham.
Ten Hag's terrible away record
Manchester United have taken just two points from eight away matches against Manchester City, Arsenal, Liverpool, Chelsea, Tottenham and Newcastle since Erik ten Hag was appointed
They've got the Jadon Sancho thing now as well. Just keep it in-house.
Rasmus Hojlund looked good – a right handful. But that was for 20 minutes. I saw Mykhailo Mudryk for 20 minutes at Liverpool in January and I haven't seen him since.
Arteta will stick with Havertz – and Rice can do it all
Ron Walker is joined by Peter Smith on 'The Question' to examine how much of an issue Kai Havertz's form is for Arsenal manager Mikel Arteta

I feel for Kai Havertz. He's playing in a position where it's not easy. He hasn't played very well.
Mikel Arteta will stick with him. He's low on confidence but Arsenal have won three and drawn one. You've paid that money and put yourself out there to go and get him.
The cream rises to the top. I'm a big fan but I did say when he got signed, he has got that look of Mesut Ozil about him.
That's the problem. If it isn't going well, he doesn't look too interested. That's not the case – it just comes across like that.
With Declan Rice, when you weigh him and Moises Caicedo up, it's so different. Rice gives you everything.
It's 1-1 and Arsenal have really got to win the game if they want to keep tabs with Manchester City. He's on and he scores the goal.
On Saturday, Chelsea are 1-0 down and they take Caicedo off. They're both holding-midfield players but one gives you a lot more.
If Rice can throw goals into his game then I dread to think how much he's worth.
If Chelsea's story was a book, you'd throw it in the sea!
Paul Merson slates Chelsea's performance against Nottingham Forest, saying they look 'mundane' when breaking down teams that sit behind the ball

Chelsea have brought in a million players and you think: 'How do you get a team out of this lot?'
Chelsea is about winning trophies. It's not Tottenham, trying to get in the top four, but that's where it's got to – so quickly, as well.
If you were reading this book on holiday, you'd throw the book in the sea. You'd think: 'That's the biggest load of rubbish. That can't happen.'
Chelsea had all these great youngsters they brought through, a team that had just won the Champions League, and now you look at it and think: 'How has this happened?' It's like Men in Black – someone's flipped the pen and you think: 'What happened?'
FREE TO WATCH: Highlights from Nottingham Forest's win against Chelsea in the Premier League

Mauricio Pochettino will get it right because he's a good manager, but it's going to be hard. If they get in the top four then they will be pulling up trees.
They've bought too many players that are the same. Enzo Fernandez is different class – a cut above the rest. But how long will he stand for this?
There's not enough guile in the team. You haven't got players that will put the ball through the eye of a needle.
Teams will go to Stamford Bridge, set up 10 players behind the ball and counter-attack. I said on Saturday that Chelsea would get beaten 1-0. I know how they struggle against teams that play 10 at the back.
They can't break teams down. It's like watching Subbuteo football – there's no movement. Unless Fernandez finds that killer pass, no one else will.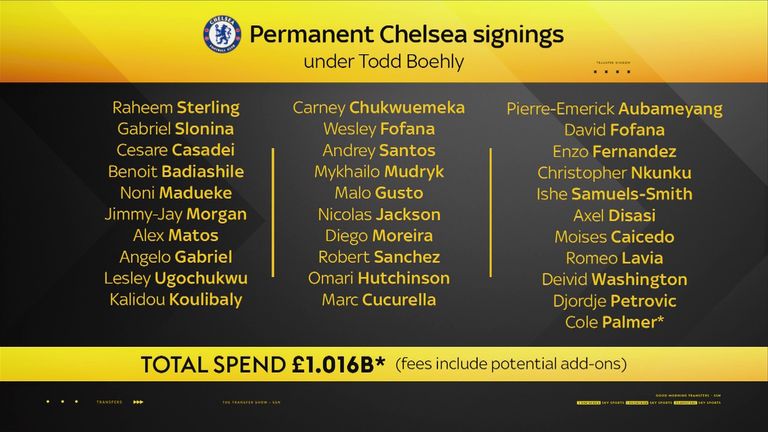 Away from home, teams will come on to Chelsea. With Nicolas Jackson and Raheem Sterling's pace, and Fernandez's vision, they will cause havoc – like they did at West Ham in the first half.
But what happened in the second half? West Ham sat deeper because they scored, and Chelsea could still be playing now and they wouldn't have scored.
Thiago Silva is still one of their best players – he's 38. You don't always have to be young. Sometimes you have to buy the ready-made product as well.
Bar Ben Chilwell, Sterling and Silva, no one is over 25 years of age. You need experience.
These players are all on eight-year contracts so I don't know where this is going. Maybe you go and get the book back out the sea to see how this ends.
England midfield selections are ridiculous
Teddy Sheringham believes James Ward-Prowse has been an excellent addition for West Ham and hopes it will help him compete for his place in the England team

When the squad came out, Trent Alexander-Arnold was one of the midfielders. If you're James Ward-Prowse, you're thinking: 'I'm never playing for England.'
You've got someone [Jordan Henderson] who's playing in the Saudi league in front of 6,000 people every week and then you've got Ward-Prowse, who's playing very well for West Ham.
He's been one of the game-changers but he doesn't get a look-in. It's ridiculous.
Alexander-Arnold is a defender. He played one game in midfield for England against Malta. I mean… Malta. I expect a professional footballer in the Premier League to be able to do well in midfield against Malta.
And what about Kalvin Phillips? He doesn't play football.
When I played, if Gazza [Paul Gascoigne] wasn't playing, he wouldn't get picked – and he was the best player by a million miles.
If Gareth Southgate had been ripping it up when he was playing at Aston Villa but there was a centre-half getting picked in front of him who wasn't playing for his club, he'd have been fuming. Who wouldn't?
Gareth will say: 'These players don't let me down.' But the problem is, the day they do, he's in big trouble. He's putting his neck on the line.