Joao Palhinha's new Fulham contract, which ties the midfielder to Craven Cottage until 2028, does not have a release clause in it.
The Portugal international came close to joining Bayern Munich in a €65m deal on deadline day.
The deal collapsed at the last minute with the player already in Munich because Fulham could not sign a replacement in time.
Fulham also turned down a £45m offer from West Ham for the 28-year-old in July.
Palhinha joined the west London club for £20m from Sporting Lisbon in July 2022 on a five-year deal, making 35 appearances in the Premier League – and winning more tackles than any other player in the process – as Marco Silva's side finished 10th in the table last season.
And Palhinha, who scored a late equaliser at Arsenal in August, could even stay at the Cottage until 2029, with Fulham also having the option to extend his deal by a further 12 months.
"I feel happy," Palhinha told FFCtv. "A lot of history happened these few weeks for me, you heard a lot of things about my future, but I'm just focused on my work at Fulham.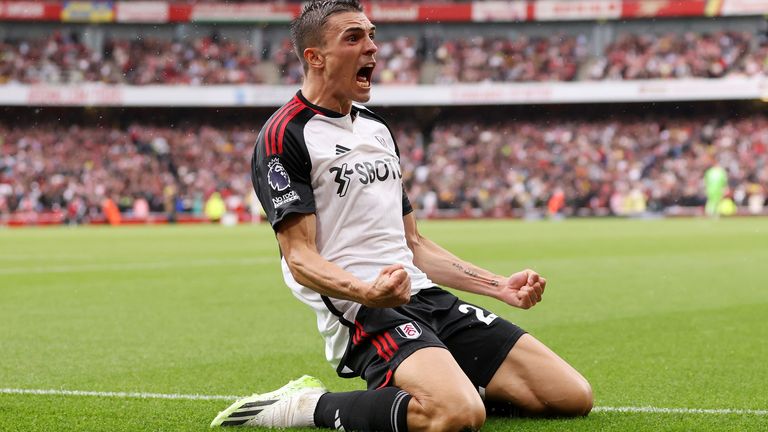 "I always have 100 per cent commitment with this club, I have all the respect for the club, for the fans. Since the first day, they supported me a lot, and me and my family felt this since the first moment that I arrived here.
"I will give everything that I have. It was always like that, on the field, outside of the field, in our dressing room with my teammates.
"I have a lot of respect for everyone here in Fulham and I am ready to start again, to give all my best, and I want to achieve good things."
Fulham are now in an even stronger position
Analysis by Sky Sports News Chief Reporter Kaveh Solhekol:
"Bayern really wanted Palhinha. The deal collapsed on Deadline Day, as late as you could get, because the
deadline in Germany on Deadline Day was 5pm, compared to 11pm here.
"Palhinha had flown to Bayern Munich, he thought he was going to get that dream move, a deal had almost been agreed
for €65m – and keep in mind this was a player bought last summer for just £20m.
FREE TO WATCH: Highlights from the Premier League match between Arsenal and Fulham.

"It looked like it was going to happen, but then at the last minute, Fulham could not secure a replacement and they
were not willing to let him go unless they got in a replacement.
"So they said, 'sorry, you are going to have to fly back,' but he flew back and he missed the game against Man City the
following day.
If Bayern Munich are going to try and sign him again in the future, Fulham are going to be in an even stronger position
"But good news for Fulham fans as he has signed this really long contract and I am being told that it does not have a release clause. A lot of people were thinking he had only signed a long contract because it had a release clause and he is going to end up getting the move to Bayern, but I do not think that is the case as I am being told his new contract does not contain a release clause.
"So, if Munich are going to try and sign him again in the future, Fulham are going to be in an even stronger position and it is fantastic news for the Premier League as he is one of the best defensive midfielders, even midfielders, in the league."