Fulham manager Marco Silva claimed it should have been "impossible" to allow Man City's contentious second goal to stand, wit the game poised at 1-1.
Erling Haaland fired another hat-trick as City maintained their 100 per cent Premier League start with a 5-1 home victory, but the game wasn't without its controversy.
The Cottagers had been holding their own against the treble winners at the Etihad Stadium when City went 2-1 ahead on the stroke of half-time with a Nathan Ake header.
The Soccer Saturday panel were divided after Nathan Ake's goal was controversially given by VAR even though Manuel Akanji appeared to be interfering with play

Fulham argued long and hard that City defender Manuel Akanji, stood in an offside position, had interfered with the ball and impacted goalkeeper Bernd Leno.
Despite a VAR review and further lengthy protests, the goal was given and City went on to win comfortably.
"The second half was not at the level that it should be," Silva said. "I tried to tell the players not to lose focus from things that we cannot control but, of course, that moment made a huge impact on them.
FREE TO WATCH: Highlights of the Premier League clash between Manchester City and Fulham

"Even all the explanations that we listened to during that period didn't make sense at all.
"What I can say? Everyone that plays football, everyone that has played football, everyone that has some knowledge about football – I'm 100 per cent sure – has to disallow that goal.
"Everyone has to be furious if a goal like that comes against you. For the linesman I believe that it can be difficult but, for the VAR, it is impossible not to disallow that goal. It is a clear offside."
Dean critical of VAR after Ake goal allowed to stand
Former Premier League referee Mike Dean criticises the VAR for not intervening in Nathan Ake's controversial goal and believes it was a 'thousand per cent offside'

Former Premier League referee Mike Dean speaking on Soccer Saturday:
"I think Marco Silva was being generous when he said the player jumped out of the way. It's actually gone through his legs!
"The goalkeeper can't go straight away because he has to wait and when he does move, it's too late. The player has to be interfering.
"It's 1,000 per cent offside. It's just offside. I just don't understand why it wasn't given. It's offside in any game of football."
Haaland: I would have been fuming
Erling Haaland scored a fifth Premier League hat-trick for Manchester City in a 5-1 win over Fulham

Manchester City striker Erling Haaland also offered his honesty on the incident post-match. He said: "I think it was offside as well. I feel bad for them, I would be fuming.
"This is how it is. It must be a horrible feeling for them.
"It's been the perfect start because we win four games. But we have a much higher level and it's about working towards that."
Analysis: Do we have to talk about VAR – again?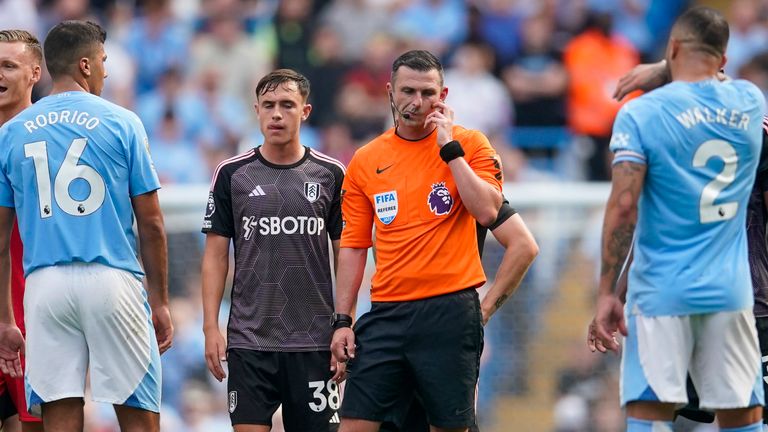 Sky Sports' Laura Hunter:
On a day Erling Haaland bagged another hat-trick – and a good one at that – the thing we continue to circle back to, the thing that hogs the headlines, is VAR. Contentious VAR. The system that was created to put an end to controversy, is actually serving to fuel it.
Phil Foden's corner was promptly nodded goalwards by Nathan Ake in second-half stoppage time – nothing wrong with that. But as Manuel Akanji lept over the ball, he did so from an offside position. There is no doubt Akanji was "in the line of vision" of goalkeeper Bernd Leno, which a quick scan of the rulebook will tell you is a definite infringement. The entire episode was missed by on-field referee Michael Oliver.
Sounds like a clear and obvious error, right? Wrong. "He must have put the goalkeeper off," furious Mike Dean raged on Soccer Saturday. Marco Silva was incandescent. VAR took a contrasting view.
Haaland touched the ball 17 times against Fulham. Three of those were goals. One was an assist for Julian Alvarez. It's a truly remarkable return. Yet, all the reflections centre on an issue that isn't going away. Haaland won't go away either, of course, but while we celebrate his achievements, VAR continues to be a sleight on our sport.