Kyle Walker is England's best-ever right-back, Jordan Henderson and Harry Maguire can no longer be considered first-team regulars, James Maddison still has much to learn about international football and England aren't good enough to be at 70 per cent and still expect to roll over a useful side.
Those will be Gareth Southgate's main lessons from Saturday's 1-1 draw with Ukraine in Euro 2024 qualifying.
Walker's first goal for his country on his 77th cap was a thing of beauty. A brilliant run, a tremendous first touch and a steely finish. You'd be forgiven for thinking he must have done it many times before.
But, speaking to him afterwards, he admitted to me he'd surprised himself and had absolutely no idea how to celebrate. He added that he has always considered his job to stop goals, rather than score them.
And that sublime defensive skill was on show again for all to see in the Wroclaw Stadium.
It was a memorable night for Kyle Walker as the England defender scored his first international goal in the 1-1 draw with Ukraine.

On numerous occasions, Walker conceded several yards to the rapid Mykhailo Mudryk – never did the Manchester City man let the Chelsea winger get the better of him.
Late in the game, Walker was embraced and heralded by Henderson and Jordan Pickford for snuffing out a dangerous foray from Mudryk. It was a typically low-key piece of defending – making up five yards on the winger, getting goal-side, and using his strength to just block the way to goal and allow the ball to run out for a goal kick. Brilliant.
So, let's start the debate now: for me, there has been no better right-back to wear an England shirt.
The most obvious counter-argument will name George Cohen, England's World Cup winner. It's a strong case.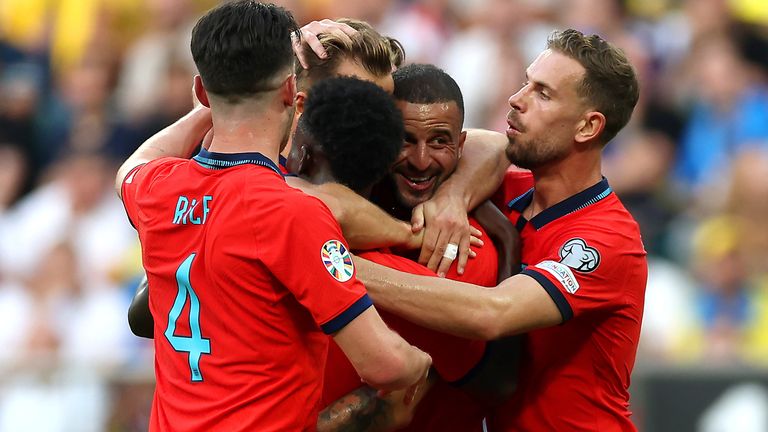 But I would say Walker couldn't have done any more in his international career to help England win a major trophy and he shouldn't be judged by the team's ultimate failure to do so. Had England won the Euros final in 2021, there would surely be no debate.
Gary Neville was, without doubt, one of England's finest. He won more caps (85) than Walker currently has (77). But the Manchester United great never played in a European Championship final or World Cup semi-final. And I'd argue his importance to the England team then, wasn't as great as Walker's is now.
When it comes to Henderson and Maguire, they are becoming bigger problems for Southgate as time passes. There's no doubt he wants both within his squad up to, and including, next summer's Euros. Both have been important players, who have never let England down. Both are vocal leaders on and off the pitch.
But the England boss admitted, when he announced this squad a fortnight ago, that Maguire's lack of game time with Manchester United, and the unknown quality of Henderson's club football in Saudi, was causing him a headache.
Both looked rusty against Ukraine.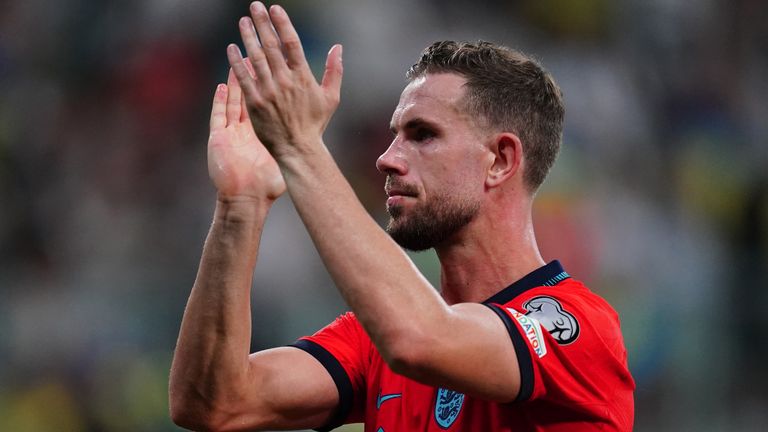 While he didn't make any big errors, some of Maguire's passing was very sloppy – an inevitable consequence, perhaps, of him playing just 23 minutes of football all season.
Henderson linked up the play well early on in the game, but his positioning was often questionable. His runs forward often starved Jude Bellingham of space and his naturally defensive mindset duplicated that of Declan Rice.
Both Maguire and Henderson, but not only those two, were culpable for Zinchenko's goal. Henderson didn't track the two Ukraine runners from midfield, and Maguire didn't sense the danger as Yukhym Konoplya cut the ball back – drawn towards the ball instead of seeing there was far too much space around England's penalty spot.
What role the pair will have in the remainder of England's qualifiers and beyond remains to be seen.
England manager Gareth Southgate admits his side weren't at their best in the attacking areas of the pitch, but was pleased with their resilience.

As for James Maddison, he's had a brilliant start to the season for Tottenham but that has been predominantly in a No 10 role, with freedom to roam. Against Ukraine, Southgate stationed him on the left wing, where he tends to be used for his country.
Like Henderson, there were good signs early on. Maddison drifted inside and was the metronome that dictated England's tempo, stretching the play and cleverly finding space.
But he quickly became frustrated when he wasn't awarded three fouls, two of which probably would have been given in the Premier League, and instead of adapting, he lashed out at a Ukrainian defender and picked up a needless yellow card. That might have led to him being substituted earlier than he was.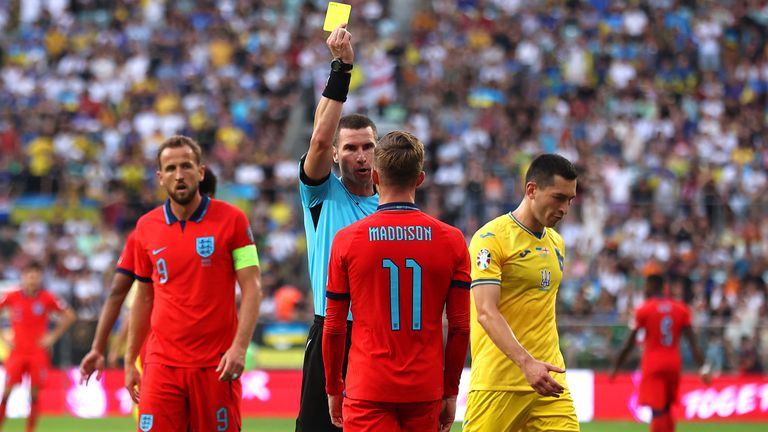 He has the football intelligence to adapt, but he wasn't at his best for sure.
Maddison's inclusion will have calmed those who have long demanded Southgate pick the flair players in form. But those same pundits and supporters will clamour for more game time for the likes of Phil Foden, who was a little off the pace as a second-half sub, Eberechi Eze and Marcus Rashford, who looked a threat when he came on.
However, it's a sign of how much the expectation levels have changed for this England team that any draw is now viewed with disappointment.
Even one that was away from home in a raucous atmosphere, against a difficult opponent, one which maintained an unbeaten record, and leaves England six points clear at the top of Group C, almost certain to qualify for Euro 2024.